Activities
In line with the studies, the school is committed to give exposure to all its students in various extracurricular activities such as percussion music, debates, classical and contemporary dance, and various sports such as basketball, volleyball, table tennis, cricket, yoga and many more. Cultural programms, outings, class party, theatre, special assembly, art & craft are important features for the students. We also encourage our students to take part in Inter school competitions & in various extracurricular activities to give them an opportunity to compete with students from other schools.
MORNING ASSEMBLY
At Rishabh, we give huge importance to morning assembly since it is portal where all students and teachers come together and discuss various aspects of day-to-day working of the school along with giving students right exposure to develop their confidence through participating in morning assembly begins with Gaytri Mantra, Sarswati Vandana, Guru Mantra or Ganesh Stuti, followed by a prayer in Hindi and English and finished by meditation. Students put up their performance rendering passage, poems newspaper reading, quiz and skits giving a vent to their creativity. Along with regular morning assembly, special assembly is organized for major national days and festivals in which various events are organized to the nature of the national day festival.

CLUBS
Students from class VI onwards have an advantage to choose clubs according to their interests. The school offers competitions, pottery, theatre, music and more clubs.

VISITS & OUTINGS
Rishabh believes that students learn best when the opportunities are produced beyond the curriculum in real life situation as these sharpen their observation & understanding & thus boost their confidence. Keeping this in mind our school organize educational tours to different places like Agra, Chandhigarh & many more. These visits provide unique experiences to witness importance of historical monuments & appreciate nature.

HOUSE SYSTEM
Students from class V onwards are divided into various houses to inculcate the feeling of team spirit, leadership, self-confidence and moral values. There are wide ranges of house level competitions such as sports, music, debates etc throughout the year.
PREFECTORIAL BOARD
To induce leadership and confidence among students, few students are selected based on variety of factors such as discipline, achievement in academics, participation in extracurricular activities. The school nominates Head Girl, Head Boy, Vice Head Boy, Vice Head Girl and prefects from different classes.

STUDENTS ELECTED LEADERS
Enthusiastic students elect their leaders as each class votes to elect class monitors. The students elect Head boy and Head girl of the school. The student members of the 'Executive Board' are also elected. Students understand their responsibilities.

INDEPENDENCE DAY CELEBRATION
An inspirational celebration with patriotic songs and performances fill each Rishabian's heart with the love for the country.

STUDENTS HONOUR THEIR TEACHERS
Self Teaching Day is celebrated in September every year. It is a day of empowerment as well accountability for the students as they take over the responsibility of entire functioning of the school. They perform wonderful programmes for their teachers.

CHILDREN'S DAY
Children's Day is celebrated with colourful programmes presented by teachers. Teachers entertain students with dance, song and play. Children enjoy and cherish the programmes. This year pots painted by the teachers were given to children as a token of love.

ANNUAL SPORTS MEET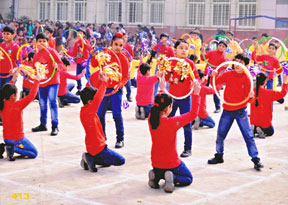 Rishabh Public School organizes its Annual Day Sports Meet in December every year. It is a memorable moment for everyone. Students take part in all events with full enthusiasm and zeal. Everybody tries to give their best and show hard work and dedication. It was pleasure to have Mrs. Asha Aggarwal (Arjun Awardee and Gold Medalist Deputy Director of Sports, Govt. of NCT of Delhi) as the Chief Guest in the sports Meet of 2015. She inspired everyone with her motivational speech and encouraged all students to participate in sports and cultural events whole heartedly. As usual it was a successful and spectacular event.

OUR SPECIAL!!!
ORIENTATION PROGRAMMES
Orientation Programmes are held every year for the Parents of Class Nursery, Prep and I. Parents are made aware of the school curriculum, events, way of teaching and several other things. They are guided about the basic need of children and to develop a positive attitude in them. Parents come in full attendance to witness these programmes and appreciate school's effort.

CULTURAL PROGRAMES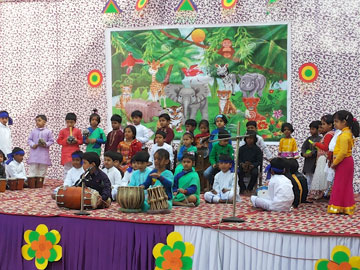 Students participate in cultural programmes held three four times in a year. These programmes are essential for the overall personal development of the child. They help the students to become confident and work as a team. Students get to know about their cultural heritage and about different dance and vocal forms of 'India. These programmes inculcate good behavioural changes and help to groom the child well. Students get to interact more the teacher and it help to build a stronger bond between them.