Academics.
The Rishabh Public School is affiliated to the Centre Board of Secondary Education ( CBSE).

To keep pace with the growing competition in today's world, we are committed to give a strong educational background to all our students right away from the kindergarten. We believe in teaching through Learning by doing where the teacher takes a passive role by letting children learn from the environment. We have drastically reduced the learning by rote studies in our School to make learning more fun for our students. At the middle and senior level we have introduced learning through Information Communication and Technology (ICT) where the students are taught all subjects along with the books in the form of educational movies and quiz. This pedagogy has shown remarkable results in developing interest among students.
Our primary aim is to develop in the student qualities of integrity, honesty, trust, tolerance and compassion; to promote a spirit of query; to foster a scientific temper within the bonds of humanism; to help the student become a meaningful part of his environment and to see that courage and integrity have their due reward..
Nursery Wing
The curriculum of our nursery wing is specially designed to seamlessly integrate tiny tots into regular school pedagogy at the primary level. It is 2 years course defined as Nursery & Prep. The main focus of nursery wing is to ensure that children learn by doing and not through cramming. The highlights of the nursery class curriculum are:
No School bags and books.
Learning through 'Play-way-method'
Readiness to read and write
Development of gross motor and fine motor skills
Development of Language
Indoor and outdoor activities
Activities such as music, art and craft
Learning through storytelling, puppet shows, clay modeling, etc
Junior library where reading habits are inculcated in student right from nursery class
JUNIOR WING
A place where a child learns while playing. Friendly environment makes learning a fun-filled & creative. In accordance, the working schedules of classes I and II have been designed in such a way that they have "short respite" periods after every 40 minutes of learning. This helps them to be ready and refreshed for the next session of classroom learning. The concept of "Regular library" (classes I to V) gives the students direct access to books in their own classroom.
Subjects
To enable the students to acquire academic excellence, emotional development & sensory experience various subjects are incorporated into the curriculum. The subjects taught include:
English, Mathematics, Hindi, Environmental Studies, General Science ( class V only), Social Studies ( class V only), General Knowledge, Computer Science, Value Education. The Maths Lab and SAC (Science activity Centre) helps the students to understand the subjects better.
Evaluation and Assessment
A continuous assessment scheme is followed and no formal examination is held. The student is graded regularly and evaluation is based on
• Child's participation and performance in class activities (Music, Sports , Theater, Art, Craft, Cultural Programmes) .
• Home work
• Project work
• Worksheets
• Class response through Class assessments.
• Reading and Spellings

Value Based Education
Education is knowledge imbued with wisdom and ethics which moulds the behaviour and personality of the students. The students imbibe the essential qualities of honesty, truth, empathy, courage, integrity, compassion, loyalty and courtesy through morning assemblies, celebration of festivals and day- to- day interaction with the teachers. The effort is to guide the students towards appropriate behaviour and development of a strong character to became a good human being.
ENVIRONMENT AWARENESS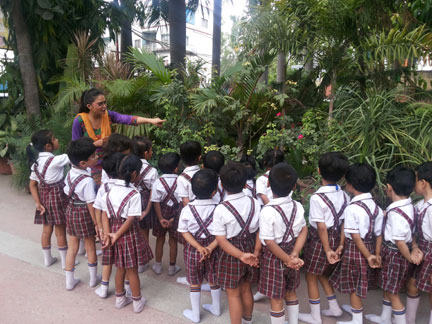 Students are continuously sensitized about the importance of environment through including environment education in the curriculum. They are encouraged to use eco friendly materials for all activities to make them aware about the environment. The school also has an active environment club which on a continuous basis keeps students engaged about various issues related to environment protection and conservation. Rishabians care for the environment. Students are encouraged to reduce and waste reuse. All students cover their books and notebook with newspaper. Waste material is used for craft activities.
MIDDLE SCHOOL
Classes VI – VIII
The main subjects taught are English, Mathematics, Hindi, Sanskrit, General Science, Social Studies, General Knowledge, Computer Science.
There are two terms in one academic session:

Term1 –Two formative assessments (FA1 & FA2) followed by First Summative Assessment ( SA1).
Term2 - Two formative assessments (FA3 + FA4) followed by Second Summative Assessment (SA2).
Senior Secondary Wing
In the senior secondary level school offers multiple options to its students including science-medical and non medical, and commerce with mathematics and without mathematics. To equip the students with the growing importance of computer education, school also offers Information Technology (IT) for all classes.
Classes IX –X
Students are prepared for the CBSE Board Examinations.
The subjects taught are English, Hindi, Mathematics, General Science, Social Studies and Information Technology
There are two terms in one academic session:

Term1 –Two formative assessments (FA1 & FA2) followed by First Summative Assessment ( SA1).
Term2 - Two formative assessments (FA3 + FA4) followed by Second Summative Assessment (SA2).
Classes XI –XII
In Grade XI, students can opt for the Science or Commerce stream, which enables them to appear for the All India Secondary School Certificate Examination conducted by the CBSE.
Streams offered are:
Stream A: English (Core), Mathematics / Biology, Physics, Chemistry, Information Practices, Physical Education.
Stream B: English (Corel), Mathematics/Informatics Practices, Accountancy, Economics, Business Studies and Physical Education.